DelMarVa's Premier Source for News, Opinion, Analysis, and Human Interest

Contact Publisher Joe Albero at alberobutzo@wmconnect.com or 410-430-5349
Friday, August 18, 2017
I have to tell you, what you will read this coming Sunday is by far the best article, (local) we've ever seen here. Local politicians need to take note, we will combat the rest of the local Fake News media and deliver solid information challenging what is really going on verses what THEY are brainwashing you with. You'll see what I mean on Sunday.
Thursday, August 17, 2017
Low-Cost Apprentice Hunting Licenses Now Available
The apprentice license is $10 for residents and $20 for nonresidents, and provides the same privileges as other Maryland hunting licenses. It allows anyone interested in hunting a one-time chance to try the sport before committing to the more lengthy process of obtaining a traditional hunting license.

"Our hope is to provide the apprentice an opportunity to experience hunting in Maryland at a reduced rate and have them become lifelong hunters," Wildlife and Heritage Service Director Paul Peditto said. "Hunters remain the primary source of revenue for conservation initiatives and are critical to the state's wildlife management efforts."

Individuals can get only one Maryland apprentice hunting license per lifetime and applicants must first pass a short, online hunter safety course offered by the Maryland Natural Resources Police.

When hunting, apprentice license holders must be accompanied and directly supervised by a fully-licensed Maryland resident, 18 years old or older, who must be close enough to take control of an archery device or firearm. An apprentice hunter can only hunt unaccompanied after successfully completing the full hunter safety course and receiving a Certificate of Competency in Firearms and Hunter Safety.

Licensed apprentice hunters can hunt deer, rabbit, squirrel, turkey and waterfowl. Appropriate stamps are needed to hunt migratory birds, deer and waterfowl with a bow or muzzleloader. Additionally, anyone 17 year old or older needs a Managed Hunt Permit to hunt in certain state parks.
Journalists and major liberal news outlets have compared violent American flag-burning protesters to soldiers storming the beaches of Normandy — all while downplaying the leftists' violence.

The protesters, known as antifa (short for anti-fascist), often advocate for communism and have been deemed a domestic terrorist movement by New Jersey. Persons associated with the movement have previously stabbed a police horse and beat people with bike locks.

The work to mainstream the violent leftists came as a response to President Trump saying that "both sides" were responsible for violence at a white nationalist rally over the weekend in Charlottesville, Va.

Indeed, many counter-protesters showed up with bats and maced rally-goers. Trump pointed this out Tuesday and said counter protesters were "swinging clubs" as they "came charging at, as you say, at the alt-right."

More
The ground teems with evidence that John White's Lost Colony came here.

A few shovelfuls of earth in a school yard or private driveway can uncover relics dating to the late 1500s, when English settlers landed on – and then mysteriously left – Roanoke Island 50 miles to the north.

Mark Horton, a professor and archaeologist from England's University of Bristol, and local historian Scott Dawson have led digs in Buxton backyards and wooded lots within sight of the Cape Hatteras Lighthouse every year since 2009.

Each trip turns up thousands of artifacts including coins, parts of guns and swords, and pieces of English clothing mingled with arrowheads, beads and rock tools of the natives. Most of the finds are American Indian in origin, but there are enough Elizabethan remnants, Dawson said, to show that the missing colonists assimilated with the natives on present-day Hatteras Island.

More
Respect for the individual is one of our core beliefs at Walmart. And the role we play in communities around the country to build a more diverse and inclusive society is more critical than ever as the tragic events in Charlottesville over the weekend painfully reminded us. Our prayers are with the victims and their families.

As we watched the events and the response from President Trump over the weekend, we too felt that he missed a critical opportunity to help bring our country together by unequivocally rejecting the appalling actions of white supremacists. His remarks today were a step in the right direction and we need that clarity and consistency in the future..

I will continue to strongly advocate on behalf of our associates and customers, and urge our elected officials to do their part to promote a more just, tolerant and diverse society.

More here

[Flashback: Walmart's imports from China cost 400,000 jobs, says study]
HBO will be debuting a documentary that explores life after the Freddie Gray tragedy. The documentary is called Baltimore Rising and will air in November.

HBO's documentary Baltimore Rising is coming soon, and will be an attempt to bring forth a more realistic and humanized narrative and perspective of the protests that started after the death of 25-year-old Freddie Gray two summers ago in Baltimore.

Sonja Sohn, best known for her roles as Detective Samantha Baker on ABC's series Body of Proof and Detective Kima Greggs on HBO's The Wire, is the documentary's director. While Sohn is an actress mainly, she also co-wrote the independent film Slam which she also had a starring role in.

The documentary will follow "activists, police officers, community leaders and gang affiliates, who struggle to hold Baltimore together, even as the homicide rate hits record levels, and explores how to make change when change is hard," according to HBO.

Freddy Gray was a 25-year black male who died after suffering a spinal injury while in police custody. Gray's injury and death was attributed to police negligence as the arresting officers put Gray in a van without a seatbelt. When the tragedy occurred in 2015, both violent riots and peaceful protests erupted.
More
Emergency Pipe Repair and Patching Completed; Eastbound Lanes Restored in Time for Busy Weekend Beach Traffic
(August 17, 2017)
– The eastbound US 50 Salisbury Bypass will reopen tomorrow morning at 6 a.m. The Maryland Department of Transportation State Highway Administration (MDOT SHA) and Corman Construction have been working overnight and through rain since Tuesday to repair the roadway following an emergency closure.

Crews excavated more than 10 feet beneath the eastbound roadway just east of Northwood Drive to replace wet and loose fill material. The area was patched with asphalt this morning and drain pipe repairs have been ongoing through the day and will be completed by tonight.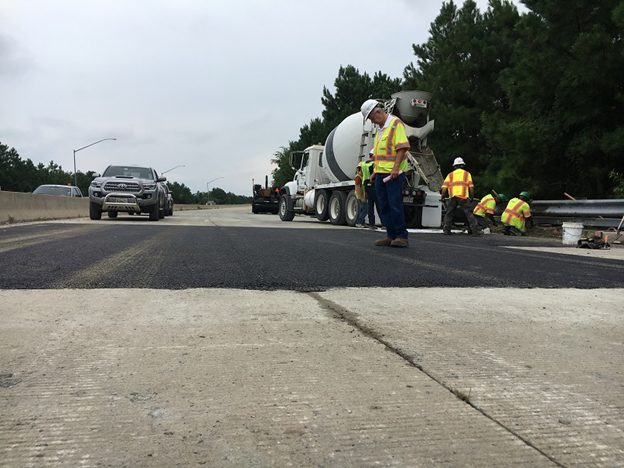 (MDOT SHA photo: Worker checking the pavement repair.)

The closure was necessary to ensure public safety when heavy rains last weekend accelerated erosion around a drain pipe, creating voids under both eastbound lanes.
President Donald Trump lashed out again Wednesday morning at the online retailer Amazon, accusing it of harming "tax paying retailers" and stripping jobs away from towns and cities across the country.

"Amazon is doing great damage to tax paying retailers. Towns, cities and states throughout the U.S. are being hurt - many jobs being lost!" the president wrote online just after 6 a.m. Wednesday morning.

Trump has also attacked Amazon over its connection to The Washington Post, a newspaper that the president feels covers him unfairly. Both Amazon and the Post are owned by Jeff Bezos.

More

Nancy Pelosi and other Democratic lawmakers are ramping up calls to remove Confederate statues on display in the halls of Congress, bringing the raging debate over Civil War symbols across the South to Capitol Hill.

Nearly 10 Confederate-era figures are memorialized in the U.S. Capitol, each sponsored by a state. Mississippi displays Jefferson Davis, the president of the Confederacy, in Statuary Hall, for example. Virginia displays Gen. Robert E. Lee in the Capitol's crypt.

"There is no room for celebrating the violent bigotry of the men of the Confederacy in the hallowed halls of the United States Capitol or in places of honor across the country," House Minority Leader Pelosi, D-Calif., said Thursday.
More
http://www.foxnews.com/politics/2017/08/17/confederate-statue-furor-hits-us-capitol-as-pelosi-and-others-seek-removal.html
Think North Korea and Charlottesville have made President Trump forget about that "no" vote Sen. John McCain cast July 28 on the ObamaCare "skinny repeal" amendment?

Think again.

From all indications at Trump's Tuesday press conference at Trump Tower in New York City, the Arizona Republican's vote remains very much on the president's mind.

In fact, it came up when a reporter asked Trump about McCain's defense of H.R. McMaster, the national security adviser who has been targeted with criticism from alt-right activists, the Arizona Republic reported.

"Senator McCain? You mean the one who voted against ObamaCare?" the president responded. "You mean Senator McCain who voted against us getting good health care?"

Trump even brought up McCain's name a second time, the newspaper reported, when the president was asked if his infrastructure plan would advance -- unlike stalled agenda items such as health care reform.

"We came very close with health care," the president said. "Unfortunately, John McCain decided to vote against it at the last minute. You'll have to ask John McCain why he did that."

More
Should the federal government allow men and women to practice law when their very presence in our country shows contempt for the law?According to the American Bar Association (ABA), the answer to that question is a resounding "yes!"

As reported by LawNews.com,
On Monday, The American Bar Association's House of Delegates passed a resolution demanding that Congress let undocumented immigrants practice law. The bar suggests that lawmakers should add this block of text to 8 U.S.C. 5 § 1621(d):

A state court vested with exclusive authority to regulate admission to the bar may, by rule, order, or other affirmative act, permit an undocumented alien seeking legal status to obtain a professional license to practice law in that jurisdiction.

This requested addition by the ABA is in response to the Trump administration's effort to make our nation's immigration policy a federal issue. This, despite the number of sanctuary cites in existence, it kinda is (as confirmed by the 2012 Arizona v. United States ruling).
More
Smartphones are so central to our lives that being separated from them for any length of time can put people into a high state of anxiety – and the problem, it seems, is only going to get worse.

Researchers have been looking into the reasons for our 'smartphone separation anxiety' – known as nomophobia – and found that it has little to do with being unable to make or receive a call.

The main reason, they found, is to do with the key role our smartphones play in our overall identity by recording numerous memories that act as an extension of ourselves.

For many people, posting about their actions on social media has become a key part of their experience of an event and, in turn, the way they remember them, the study finds. And being without a smartphone means you can't be posting about your current activities, researchers say.

More here
The Navy plans to relieve the two top officers and the senior enlisted sailor of a destroyer that collided with a freighter off the coast of Japan in June, killing seven sailors in one of the sea service's deadliest accidents in years.
About a dozen sailors over all face career-killing administrative actions as a result of the accident, an admiral said at a briefing at the Pentagon.
A preliminary report into the accident released by the Navy on Thursday describes in harrowing detail the immediate aftermath of the collision and the rescue efforts aboard the Fitzgerald. The ship's routine cruise through familiar, if crowded seas, ended in the most deadly Navy accident in years.
Read More »
A Missouri state senator said in a now-deleted Facebook post that she hopes President Donald Trump is assassinated.

Maria Chappelle-Nadal acknowledged on Thursday that she wrote a post which read: "I hope Trump is assassinated!"

She made the comment in an exchange with a left-wing activist who claimed that his cousin is a Secret Service agent.

More
Many drugs granted accelerated approval by the U.S. Food and Drug Administration (FDA) lack clear evidence of safety and effectiveness, and the same is true for most high-risk medical devices, according to two new reports in the Journal of the American Medical Association.

The Accelerated Approval pathway makes potentially promising investigational medicines available for use before the usual amount of data has been collected to confirm their effectiveness and safety, Dr. Huseyin Naci from the London School of Economics and Political Science told Reuters Health by email.

"Drugs granted Accelerated Approval should be rigorously evaluated using convincing patient-centered clinical outcomes in rigorous studies," Naci said. But, he added, "we have found numerous situations in which required confirmatory studies with rigorous designs and outcomes are not pursued or are not completed in a timely fashion, and in these cases, we are concerned that regulators appear to accept data that would not otherwise meet FDA standards."

More here

CHARLES CO, MD (WUSA9) - A Charles County couple woke up to find not one, but two sinkholes in their backyard.

Now they might be getting stuck with a $100,000 bill to fix the sinkholes, even though they formed after a drainpipe that serves their neighborhood busted.

Coral and Gary Showalter have lived in their house in Waldorf since 1998. They have a beautiful backyard, complete with in-ground swimming pool. But just feet away, two sinkholes formed within the last month. It's all because a pipe that goes underneath their backyard busted. Coral says the drainage pipe serves their neighborhood and even nearby Route 228.

More
Housing and Urban Development Secretary Ben Carson and his wife said Wednesday that the "racial and political strife" from Charlottesville should be opposed, "but let's use the right tools."

"Regarding all of the racial and political strife emanating from the events in Charlottesville last weekend, let me relate a story," Ben and Candy Carson began in a Facebook post.

"Several years ago we bought a farm in rural Maryland," they said. "One of the neighbors immediately put up a Confederate flag.

"A friend of ours, who is an African-American three-star general, was coming to visit and immediately turned around concluding that he was in the wrong place..

More here

BALTIMORE (WJZ) — Wednesday marked the 40 year anniversary of Elvis Presley's death, and many of his fans went to his final resting place to remember one of the most influential musical stars of the 20th century.

Presley's daughter, Lisa Marie, was there, helping thousands of Elvis fans on their candlelit pilgrimage through the Graceland estate and to his grave site.

"You grow up listening to all his albums as a teenager," said one fan. "And it's just a great loss."

But this year, visitors got an unpleasant surprise. Participating in the procession is no longer free, and many longtime attendees protested outside the gates.

More
Contradicting statements by Virginia Gov. Terry McAuliffe, the Virginia State Police say they did not find caches of weapons stashed around Charlottesville in advance of last Saturday's deadly white nationalist rally.

In an interview Monday on the Pod Save the People podcast, hosted by Black Lives Matter activist DeRay Mckesson, McAuliffe claimed the white nationalists who streamed into Charlottesville that weekend hid weapons throughout the town.

"They had battering rams and we had picked up different weapons that they had stashed around the city," McAuliffe told Mckesson.

McAuliffe's comments were picked up by other news outlets and spread through social media. But Corinne Geller, a spokesperson for the Virginia State Police, says that no such stashes were found.

More here

(CNN)Medical marijuana is now legal in 28 states and the District of Columbia. Increasingly, people are turning to cannabis to treat a range of symptoms and conditions, including nausea, bipolar disorder and seizures.
But when it comes to using marijuana to treat chronic pain or post-traumatic stress disorder, two related reviews published Monday in the journal Annals of Internal Medicine find little scientific evidence to support either its effectiveness or its safety.
Up to 80% of people who request medical marijuana want to ease pain, while more than a third cite PTSD as their primary reason, the US Department of Veterans Affairs researchers wrote, citing a separate recent small study.
More
Following the ugly incident that took place in Charlottesville, Virginia, this past weekend, an unruly mob took out its anger on a century-old statue in North Carolina.

It is a perfect example of how tribal and identity politics are raging out of control in America, and how radicals will continue to ratchet up their tactics to match one another.

While the media spent its time connecting riots to the political right, the hard left continued to step up its tactics to promote social discord, as it has been doing for years.

On Monday afternoon, a crowd of people in an "Emergency Durham Protest" marched down Durham's Main Street, then made its way to the Durham County Courthouse.

The Herald Sun reported that organizations like the "Triangle People's Assembly, Workers World Party, Industrial Workers of the World, Democratic Socialists of America, and the Antifa movement" were at the rally.

One of the participants, Eva Panjwani of the Workers World Party Durham, said in an interview:
Your tax dollars hard at work? This Boy Mayor needs to GROW THE HELL UP. That includes all the children he continues to hire. Where's the JOBS? Where's the new Police Chief? Where's the arrests of the Drug King Pins? Yeah, let's gather for selfies instead. This Boy Mayor needs to go!
"Show your love for the City". Welcome drug dealers who LOVE to sell their drugs here, take a selfie. Welcome all the rapists who LOVE the City, take a selfie. Welcome murderers who LOVE the City, take a selfie. Welcome MS-13 Gang Members who LOVE the City, take a selfie.
Come on Jakie, what is to LOVE about Salisbury?
Leftist "Antifa" protesters stormed a county government building in Minnesota, seized and burned the county flag - then replaced it with an Antifa flag - on Monday.

After left-wing protesters marched through downtown Minneapolis, Minnesota in response to last weekend's demonstrations in Charlottesville, Virginia, they hoisted the flag of the violent left-wing group "Antifa," raising it in front of the county's government center.

The Hennepin County flag was swapped with Antifa's, a spokeswoman for the county confirmed to CNSNews.com, and the event was caught on camera by a woman in the crowd, who posted the footage on Twitter.

"Protesters gathered outside the Hennepin County Public Safety Facility. I do not know any specifics. I do know at some point the Hennepin County flag was taken down, damaged and the other flag went up," said the county's spokeswoman. "This lasted for under 30 minutes at which time we replaced the flag with a new one."

More
Deadline for Hunt Clubs to Enter Lottery is Aug. 23
Hunt clubs interested in obtaining a hunting lease agreement on Chesapeake Forest Lands can enter a lottery for individual, non-leased tracts in Dorchester, Wicomico and Worcester counties. The Maryland Department of Natural Resources will accept online entries until Aug. 23.
"Hunting is an important part of our overall land management strategy for sustaining Chesapeake Forest Lands," Maryland Forest Service Director Don VanHassent said. "I encourage our responsible partners in the hunting community to take part in this lottery."

The department advises entrants to visit the Chesapeake Forest tracts before making a selection, as some have limited access. Hunt clubs are expected to help maintain access roads, gates and signs along on the leased property.

Rules and guidelines for the lottery are as follows:
Only hunt club members at least 18 years of age can participate in the lottery.

A hunt club must have at least two members licensed to hunt in the Maryland with one person designated as the club president.

Each member may fill out a lottery form. Only one submittal per person will be placed in the lottery.
Each entrant can choose up to four tracts for the hunting lottery. The drawing will occur at 2 p.m. Aug. 24. Winning entrances will be awarded the first available tract they choose.

The Chesapeake Forest Lands comprise of 238 parcels totaling more than 58,000 acres in five lower Eastern Shore counties. The state purchased the lands to manage and protect them and also to expand opportunities for public access for outdoor recreation like canoeing, birding, fishing and hunting.


We do have an alt-right and we do have an alt-left, and the hatred is entrenched on both sides, conservative activist Star Parker told C-SPAN on Wednesday.

The hatred of the alt-left is aimed at Christians, Parker said. And the racial hatred of the alt-right -- the white supremacists -- was addressed long ago by Dr. Martin Luther King, Jr., who rallied for peace and whose efforts culmimated in the Civil Rights Act.

"This was the opportunity for America to say, OK, let's move past slavery, let's move past Jim Crow...But we didn't stop there," Parker said.

"No, actually first the cities all burned down across the county. And then we come up out of that time, five years within Dr. King's death, we had Roe v. Wade as national law with Planned Parenthood deliberately targeting black children. We had an expansion of the welfare state.

"Dr. King wanted -- he wanted repentance and revival. This new generation that you're talking about, the hate on the left -- they want redistribution and revenge. And this is something we must address. No, that hate on the left is not so pure and simple that you just want to get along. No, it is deliberately toward one people group and one people group alone right now -- Christians."

More here
Noise complaints surrounding late-night carousing at the Chicken Man Food Store in Snow Hill was the basis for a spirited discussion during a Town Council meeting last Tuesday.

Mark Nixon, a business owner adjacent to Chicken Man's West Market Street location, said he has spoken previously to town officials about the hours of operation and conduct of patrons.

"Chicken Man stays open until midnight," he said. "I think my main complaint is he should shut down at 10."

Nixon went on to explain that a small percentage of Chicken Man's clientele listen to music at high decibel levels when they visit the food store.

"During the day it gets a little bit out of hand when I'm sitting in my office and they're vibrating the windows in the shop," he said. "One guy rides around in a silver vehicle … that's got external speakers and that's just crazy. He turns them on when he walks in Chicken Man."

More
Dear Leftists,

Stop seeing Nazis under your bed. Yeah, I know, the rally at Charlottesville has proven there are real Nazis and KKK in America, and you're all very scared that the nonsense you've been talking for years is true.

I've heard the rally by Unite the Right (a misnomer, and yes, we'll get to it later) comprised around a hundred people. Sources trying to make us really scared have increased that to four hundred, but I am sure they're also including the self-named Antifa.

So a hundred, maybe four hundred, in the South, in what you guys consider (ignorantly) to be the bastion of racism/sexism/other isms that might occur to you. … Out of a nation of three hundred million.

Whether or not this turned into a fight, whether or not the hilariously ineffective law enforcement was ordered to stand down, whether or not in the confusion a woman was murdered or at least killed, I want you to think about those numbers. Use your fingers and toes, if needed. Let's make this clear: if there were four hundred neo-Nazis (and that's assuming some of them weren't just stupid) there, which there probably weren't, that's one in every seven hundred and fifty thousand people in America.

More
Trump ignited a political firestorm yesterday during an impromptu press conference in which he said there was "
blame on both sides
" for the tragic events that occurred in Charlottesville over the weekend.
Now, the discovery of a
craigslist ad posted last Monday
, almost a full week before the Charlottesville protests,
is raising new questions over whether paid protesters were sourced by a Los Angeles based "public relations firm specializing in innovative events" to serve as agitators in counterprotests.
The ad was posted by a company called "
Crowds on Demand
" and offered $25 per hour to "actors and photographers" to participate in events in the "Charlotte, NC area." While the ad didn't explicitly define a role to be filled by its crowd of "actors and photographers" it did ask applicants to comment on whether they were
"ok with participating in peaceful protests."
Here is the text from the ad:
In the wee hours of Wednesday morning, Baltimore removed its four Confederate monuments, including statues of Confederate Generals Robert E. Lee and Thomas J. "Stonewall" Jackson. This action followed this weekend's events in Charlottesville, Va., when white supremacists protested the removal of a Lee statue, and events this week, when protesters vandalized Confederate statues in Durham, N.C., Louisville, Ky., and Gainesville, Fla.

Activists and government leaders are calling for more removals, while some counter protesters have organized to protect some monuments. Here is a brief summary of the monuments under attack — and those that aren't.

Monuments removed.

The movement against Confederate symbols gained momentum two years ago after avowed white supremacist Dylann Roof murdered nine African-Americans at a church in Charleston, S.C. Roof had shared a picture of himself with the battle flag of the Army of Northern Virginia, known colloquially (if inaccurately) as the Confederate flag.

More
The crash occurred near Las Ramblas in Barcelona, Spain, the police said. It was not immediately clear whether the episode was related to terrorism — or if it was even intentional — but Islamist militants have staged several attacks recently in which they used vehicles to plow into crowds.
Read More »
The violence in Charlottesville has renewed efforts by the Left to tear down all Confederate monuments.

The alt-right rally that took place over the weekend was premised on opposing the removal of a Robert E. Lee statue in the Virginia town. Now, with the notion that these site are magnets for neo-Nazis firmly planted in the minds of leftists, other monuments are being targeted for removal.

Seemingly to preempt any violent demonstrations, Lexington, Kentucky,announced Sunday that it was speeding up its removal of Confederate statues in the city.

On Monday, Durham, North Carolina let random demonstrators take a statue dedicated to boys who died fighting for the South. In a scene reminiscent of the Bolsheviks, a leftist mob pulled down the statue and then proceeded to kick it, spit on it and flip it off.

More
Protesters vandalized and attempted to take down the Peace Monument in Piedmont Park in Atlanta on Sunday, mistaking it for a pro-Confederate statue.

The protesters were marching in response to the violent protests in Charlottesville, Virginia, on Saturday where one woman died after being deliberately hit by a car, and two law enforcement personnel were killed when the helicopter they were in crashed.

"The Atlanta march traveled from Woodruff Park to Piedmont Park Sunday, where some damaged the Peace Monument, erected in 1911," a blog on the Atlanta Journal-Constitutionwebsite said. "The sculpture features an angel standing above a Confederate soldier, guiding him to lay down his weapon."

But the memorial attacked by protesters — some dressed in black and wearing masks — was erected to encourage healing and reconciliation:

More
The MSM broke a story on Sunday that has seriously elevated the level of stupidity, dishonesty, and hysteria in reporting -- even more than it already has over the past few months of the attempted overthrow of the Trump administration.

It seems that an Australian fitness competitor died from complications occurring from an undiagnosed case of Urea Cycle Disorder, an extremely rarederangement of protein metabolism that results in toxic levels of ammonia in the blood. Being a rare genetic disorder, she had not been tested for it.

How do you think the vast majority of the world's media created a clickbait story out of this tragic death? They lied about it.

You've read the headlines and listened to the newsreaders the past couple of days. With very few exceptions, the headlines and the first paragraphs said that Meegan Hefford, a "mum" of two, died from eating too much protein. In predictable lockstep, they dutifully recited the narrative: too much protein can kill you, she ate too much protein because she was a bodybuilder, and now she's dead. Poor kids.

More
Bobby Cowger, a lifelong resident of Pocomoke, has been named city manager, Mayor Bruce Morrison announced during the council meeting on Monday.

Cowger, who has served multiple terms as Worcester County Commissioner and had run the now defunct county Department of Liquor Control, said he sought the position for both professional and personal reasons.

"I was born and raised in Pocomoke," he said. "I've been here all my life."

Cowger, whose first day on the job is Aug. 28, takes over for former City Manager Ernie Crofoot who left office on July 5.

After graduating from Pocomoke High School in 1976 Cowger worked with his family's construction business, Cowger Brothers Ready Mix Concrete and Asphalt Paving, for nearly two decades.
More
The National Republican Congressional Committee on Wednesday released a new ad titled "Corrupt," which targets Democratic Rep. Debbie Wasserman Schultz (Fla.) for her handling of the scandal involving her now-former IT staffer, Imran Awan.

Schultz has faced backlash in recent weeks for employing Awan, who had been under federal investigation since February for an equipment and data scam in the House; she only fired Awan after he attempted to flee the United States. He was arrested in late July at Dulles Airport in Virginia after trying to fly to his native Pakistan.

The "five-figure ad buy" starts out with a police chase, in which a police car is following another vehicle to an airport.

"July 2017: a congressional aide to Debbie Wasserman Schultz, Imran Awan, was arrested trying to flee the country," a narrator says during the police chase scene. "Instead of joining her Democratic colleagues, Schultz waited until after the arrest to fire Awan."

More
The headline says it all! Maryland carry permit laws prevent the average citizen from legally protecting themselves. The residents of Maryland need to come together and make a change, we need to make Maryland a safer state to live, by allowing law abiding citizens to carry out the right to legally protect themselves. While we shouldn't change the law in response to the terror attacks in Paris, by denying Maryland citizens the ability to lawfully defend themselves, such a tragedy could occur here unabated until a response arrives. The crime rate in this state will drop, and people won't have to worry about getting robbed while simply walking down the street at night. Let's all come together and try to show our elected officials that we, as residents, deserve the right to protect ourselves. Thanks for your support.




This petition will be delivered to:



The Interior Department won't be removing monuments to Confederate soldiers at national battlefields that are "an important part of our country's history," according to a spokesman.

"The National Park Service is committed to safeguarding these memorials while simultaneously educating visitors holistically and objectively about the actions, motivations and causes of the soldiers and states they commemorate," spokesman Jeremy Barnum told E&E News.

National Park statements come after a woman was killed counter-protesting a white supremacist rally in Charlottesville, Va. The city voted to remove a statue of Confederate General Robert E. Lee.

More
A photograph that purports to show Donald Trump's parents wearing Klan robes is a hoax.

A photograph purportedly showing Republican presidential nominee Donald Trump standing with hisparents after they have donned Ku Klux Klan robes added to the noise as the presidential race heated up in September 2016:
This photograph is not genuine and has been rather clumsily altered from the original, in which all three of them are wearing perfectly normal (and color-coördinated) clothing without a hint of Klan insignia:
This isn't even the first time that Ku Klux Klan robes have been digitally inserted into an image during the 2016 presidential election. For example, an altered photograph of former U.S. Senator Robert Byrd wearing a Ku Klux Klan robe has been widely circulated on social media in an attempt to link Democratic presidential candidate Hillary Clinton to the white supremacist group. While Byrd did join the KKK in his twenties (and spent much of his later life publicly atoning for his early choices), the altered image shows him wearing the robe much later in his life.
A group of protesters who want the body of an alleged Ku Klux Klan leader removed from their city have broken the soil over the grave.

The campaigners claim it has taken officials in Memphis, Tennessee, too long to exhume Nathan Bedford Forrest - who was a lieutenant general in the Confederate States Army.

They also want the statue of the soldier on a horse on the burial site to be removed. The rebel cavalryman, who died in 1877, has been buried in the city's Health Sciences Park since 1904.

More
The agency told the group in October of last year that it had no records related to the infamous meeting

The FBI has reopened a conservative organization's request for information about former Attorney General Loretta Lynch's meeting with President Bill Clinton after denying last year that there were any relevant records to disclose.

The American Center for Law and Justice's Jordan Sekulow said Wednesday he has received a letter this week from the FBI's chief of records management saying that the agency had determined that there may be "responsive" FBI records to the group's Freedom of Information Act request last July and so he had reopened the case.

The agency told the ACLJ in October of last year, when the FBI was still under the direction of James Comey, that it had no records related to the infamous meeting between Lynch and Clinton on the Phoenix tarmac.

More
The day before a fully automated grocery store opened its doors in 1939, the inventor Clarence Saunders took out a full page advertisement in the Memphis Press-Scimitar warning "old duds" with "cobwebby brains" to keep away. The Keedoozle, with its glass cases of merchandise and high-tech system of circuitry and conveyer belts, was cutting edge for the era and only those "of spirit, of understanding" should dare enter.

Inside the gleaming Tennessee store, shoppers inserted a key into a slot below their chosen items, producing a ticker tape list that, when fed into a machine, sent the goods traveling down a conveyer belt and into the hands of the customer. "People could just get what they want – boom, it comes out – and move on," recalled Jim Riot, 75, who visited the store as a child. "It felt like it was The Jetsons."

Despite Saunders' best efforts, the Keedoozle's circuits frequently failed and the store closed for good by 1949.

But 72 years after he attempted to patent his idea, advances in robotics, artificial intelligence, and other technologies are making the dream of a worker-free store a reality. And American cashiers may soon be checking out.

More here
Lee Boyd Malvo, who as a teenager participated in the sniper attacks that killed 10 people and terrorized the Washington region, will not get a new sentence in Maryland, a judge said in a ruling released Wednesday.

Malvo's attorneys had challenged his life sentences in Maryland and in Virginia, citing a recent U.S. Supreme Court ruling that said mandatory life-without-parole sentences for juveniles are unconstitutional. The latest ruling means he will essentially continue serving a life sentence even though a different judge ruled he is entitled to a new sentencing in Virginia.

"The six consecutive life-without-parole sentences were imposed after a full consideration of Defendant's physical, mental and emotional state," Montgomery County Circuit Court Judge Robert Greenberg wrote.

More
Charlottesville Police finally came up with an official statement and end the media's misery. The fraudulent and miserable news stations lied about who's responsible for what happened and, of course, they blamed only one side of the conflict. That's unacceptable because we actually saw who provokes and who starts the violence.

President Trump was slammed by liberals after denouncing the "display of hatred, bigotry, and violence on many sides" in the aftermath of the Charlottesville, Virgina "Unite the Right" rally.

The mainstream media was in an uproar over President Trump's statement, claiming that he was creating a false equivalence between right-wing extremists and those counter-protesting. However, Trump's statement is consistent with local police reports. "We were hoping that it would not elevate to this level of the violence that we witnessed amongst the participants in the crowds, on all sides. They were throwing bottles, they were throwing soda cans with cement in them," said a Virginia police spokesperson, according to The Independent Journal Review.

Corinne Geller, the Virginia police spokesperson, went on to explain that protesters "were launching chemicals into the crowd," without singling out either side.

Videos capturing the Charlottesville protests makes it abundantly clear that both sides arrived at Emancipation Park looking for a fight. White nationalists and Ku Klux Klan stood on one side, with Black Lives Matter and Antifa protesters on the other. Both were armed with makeshift shields and bats.

Even left-wing New York Times reporter Sheryl Gay Stolberg called out left-wing violence. "The hard Left seemed as hate-filled as alt-right. I saw club-wielding 'antifa' beating white nationalists being led out of the park," she tweeted.

More
The tragedy in Charlottesville, Virginia, could have been an occasion to stop and consider how the tolerance for politically correct violence and politically correct hatred is leading the nation toward civil war.

Instead the media and the political left have turned this incident into the biggest fake news story of the summer, transforming its real lessons into a morality play that justifies war against the political right, and against white people generally.

The organizers of the "Unite the Right" demonstration in Charlottesville were repellent racists.

But they came to defend a historic monument honoring a complex man and cause, and not to attack it or, presumably, anyone else.

They applied for a permit and were denied. They re-applied successfully in a petition supported by the local ACLU.

If they had come to precipitate violence, why would they have gone to the tedious trouble of applying for a permit?

Who knows what — if anything — would have happened if that had been the end of the story and no one had showed up to oppose them.

More here
If Democrats seeking the removal of historical memorials tied to racist history are serious, they should be tripping over one another to get in front of a camera and call for the removal of memorials and namesakes to Presidents Andrew Johnson, Woodrow Wilson, Franklin Delano Roosevelt, Lyndon Baines Johnson, and Sen. Robert C Byrd.

These five men had two things in common–all had a penchant for racism to one degree or another, and all were Democrats.

Some of the memorials to them are monuments, some are groves, others are highways, bridges, colleges, and even cemeteries. Of course, the cemeteries ought not be disturbed, but they should be renamed if the Democrats are serious about rooting out the vestiges of racism.

What follows is a short description of each of the Democrats and the memorials and/or namesakes in their honor:

More
Confederate monuments were torn down in Baltimore overnight just days after white nationalists led a deadly protest over the planned removal of a statue in Virginia.

Work crews used heavy machinery to haul the divisive monuments away on flatbed trucks in the early hours of Wednesday morning.

The monument to Robert E. Lee, commander of the pro-slavery Confederate army in the American Civil War, and Confederate general Stonewall Jackson was dismantled from the city's Wyman Park Dell, while a statue dedicated to the Confederate Women of Maryland was removed around 3am from Bishop Square Park.

The monument in Mount Vernon honoring Roger Taney, who wrote the 1857 Dred Scott decision that upheld slavery, was also removed. Another statue for Confederate soldiers and sailors, which was vandalized with red paint at the weekend, was also gone by Wednesday morning.

More
Virginia State Police cleared Emancipation Park Saturday after a white nationalist demonstration turned violent, but the action forced attendees into a crowd of counter-protesters.

The rally was organized as a protest to the ordered removal of a statue of Robert E. Lee in downtown Charlottesville, Va. The rally was named the "Unite the Right" rally, but attendees largely identified as white nationalists or white supremacists when asked by reporters on the ground. Both Black Lives Matter and then antifa declared they would bring members to Charlottesville to protest the rally, setting up a showdown between the two groups.

The white nationalists applied for a permit from City Hall, and originally obtained a permit for McIntire Park, a location roughly a mile and a half away from the statue. But white supremacist Richard Spencer declared that the group would meet at the much smaller Emancipation Park, the home of the famed Lee statue. City Hall approved the permit Friday evening.

More
Last weekend, according to NBC Chicago, there were nine people killed and more than 30 wounded in gunfights on the streets of Chicago — and those figures don't include the deaths and injuries from other weapons within that Democrat Party pit.

This is a recurring tragedy in Chicago, and yet it's highly probable that 99.999% of Americans have not heard about those deaths. Indeed, even though most of the murdered were black, who beyond the immediate family and friends of the deceased can name a single unfortunate victim of all the hatred and violence that is commonplace there?

The reason their names and faces are anonymous is that their lives have no value as political fodder for the Demo/media propaganda machine or its so-called "Black Lives Matter" constituency. Those victims are simply tossed onto the pile of 430 homicides in Chicago thus far this year, to the horror of those of us who believe that "all lives matter."

Now consider this: Last weekend, there was one person murdered in Charlottesville, Virginia, by an Ohio man, and the whole world knows the name of that unfortunate victim.

Charlottesville is, as anyone who has been there can attest, a great town. In January, I declined an invitation to attend the Trump inaugural fanfare, opting instead that weekend to meet my son in Charlottesville for a few days visiting friends and re-visiting historic sites.

This area is, in my opinion, the richest historic region in America.

Charlottesville is the site of Declaration of Independence author Thomas Jefferson's Monticello home, which sits just above the town, and his beloved University of Virginia.

More here
[Mark Alexander is Executive Editor and Publisher of The Patriot Post, the Internet's highly acclaimed Journal of American Liberty.]
Yahoo! News followed up the weekend's violent clashes in Charlottesville, Virginia, with an uncritical portrayal of one of the most deeply-involved groups: violent left-wing "anti-fascist" street gangs, collectively known as Antifa.

Yahoo! reporter Caitlin Dickson penned a gushing paean Monday for the "secretive movement of combative leftists" who "seek to destroy" "authoritarian movements" with "direct action." The piece even included a photo of a large group of smiling happy warriors, unarmed and fists raised in righteous indignation at the "white supremacists" they would confront.

According to Ms. Dickson, "[A]ntifa's origins can be traced back to Europe in the 1920s and 30s. Since the end of World War II, antifa activity has ebbed and flowed along with that of neo-Nazis, skinheads and other hate movements that have sprung up around the United Kingdom, Germany and the United States."

In fact, as the avowedly Marxist-socialist periodical Jacobin magazine explains in a much more honest, if not less enthusiastic, appraisal, Antifa, originally known in its native Germany as Antifaschistische Aktion, was founded as the militant wing of the German Communist Party. In the 1930s, it was known to be every bit as violent as its Nazi opponents. After World War Two, Antifa groups re-formed in Germany to collaborate with Soviet communists on subduing the country and rooting out its past to create a new socialist utopia.

More